Basement Remodeling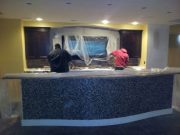 If you feel that your basement isn't being used optimally, you should consider getting the space remodeled. Basement refinishing and remodeling is a popular trend with modern day homeowners and over the years we have helped transform many little-used basements into entertainment zones, TV rooms, bar spaces, guest bedrooms, kitchens and even home office spaces.
When it comes to improving the functionality of your basement the sky is the limit in terms of the options available to you. However, these projects represent a significant investment and you need to hire basement renovation contractors that would be able to provide you solutions that are right in line with your vision for that space.
We at Good Guy Home Improvements LLC have worked very consistently for more than 11 years to build a very solid customer base in and around Dayton, Cincinnati, Englewood, and Clayton. We have handled a significant number of basement refinishing projects in Huber Heights, Springfield, West Chester, and Ohio. In recent years we have catered to customers across Fairfield, Hamilton, Centerville, Miamisburg, as well as West Carrolton and the surrounding areas.
Basement Remodeling Ideas
We understand that every homeowner will have some ideas about how they want to use their basement and the features they want to be installed there. This is why our basement designers work very closely with you to understand what your specific requirements are and the budget you have allocated for the project. Based on these discussions, they will provide designs and plans that match your requirement. We can handle basement remodeling projects of any scale and complexity and can provide design and installation solutions for:
Playhouse- We can design a giant playhouse for your kids with all the necessary features in place. This area can easily be turned into a safe play zone for young kids.
Bar- If you have always wanted a dedicated bar and lounge space in your home, the basement is a great spot to have it. We can design a very functional bar counter space with comfortable seating and mood lighting to transform your basement into the perfect relaxation spot.
Game Area- A basement lends itself very well to a game zone. Wooden flooring, textured walls, a pool table, a gaming screen in one corner and you have a great setting to spend fun moments with friends and family.
Den- If you want a quiet and elegant den in the basement, we have just the designs for you. Sophisticated and chic installations, cozy seating, some bookshelves, a fireplace and recessed lighting can all be installed to create a comfortable den in your basement.
TV/Entertainment Room- Our skilled designers will use their creativity and knowledge to design a well-insulated entertainment room that can become your family's favorite leisure spot on weekends.
In short, we can design and renovate your basement space the way you want it. The best designs, materials, and workmanship will be used in the work to ensure the longevity of the installations. We are the experts that leave no stone unturned to ensure you get the kind of space you want at basement remodeling cost that fits right into your budget.
For any more information about the services we provide, feel free to call Good Guy Home Improvements LLC at 937-689-1635. You can also send us your project details and queries via this contact us form.