Bathroom Remodeling Dayton, Ohio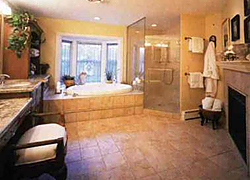 A typical bathroom remodel will take 6-8 days depending on what is involved. We help with the bathroom design, if needed, and make the whole process as pleasant as we can from start to finish. We know that it is tough having strangers in your home doing any type of work especially for days at a time. This is your bathroom and we want you to be happy when you walk in this room and be proud of the work we have done.
When you are in your bathroom shower or tub relaxing it helps to be surrounded by beautiful bathroom tile on your floor and walls and maybe a nice granite countertop on your vanity, but no matter how big or small the job we want to help.
Water, mould, and mildew proof.
We here at Good Guy Home Improvements wish to lay down the gauntlet for all our competitors in bathroom remodeling throughout the Dayton and Cincinnati area. If you are planning on doing a bathroom remodel that involves a tile shower floor or tile surround and shopping around for a contractor for the job, give us a call (937) 689-1635 so we can come out and explain the process we use to ensure your shower is 100% waterproof, therefore mould and mildew free. Please call as many bathroom remodelers out for extra estimates so they can explain their process as well, and you can compare apples to apples. You will find our method is far superior to our competitors at a fair price.
Call other reputable bathroom remodeling companies in your area, that are properly licensed, insured, BBB members, and have plenty of references so you can adequately check them out.
I know a lot of bathroom remodelers that don't even seal the grout, and never mention the process during their estimate. They figure by the time you figure out your mould problem enough time will have gone by that it isn't their problem anymore.
The reputable bathroom remodeling companies will use concrete board on your walls, mortar the joints, tile, and seal the grout. This is acceptable, but we at Good Guy Home Improvements go a step further to ensure 100% water proofing for the life of your bathroom and would love the opportunity to share it with you.
Tile shower floors must have poured concrete, with a rubber liner that connects to your drain, and then you can tile over that, which is what our reputable bathroom remodeling competitors do. This is acceptable too, but again we take it a step further at Good Guy Home Improvements.
The bottom line is we will remodel your bathroom with the same top of line materials that we use in our homes. I am not going to explain the extra steps we take here on the web site because I don't want my competitors to know what we do, so please give us a call to find out.
The good bathroom remodelers are few and far between folks, I have heard the horror stories, and seen the things bad contractors try to get away with so they can rush through the job and get paid. Although we get the job done in a timely manner, we never rush or sacrifice quality. Unlike the others, we want you to call us again for more projects, not for fixing something that should have been done right the first time.
We offer the best quality work, keeping things clean throughout the process, and leaving you happy so you will call us again and again!
Serving:
Centerville, OH
Springboro, OH
Bellbrook, OH
Dayton, OH
Beavercreek, OH
Lebanon, OH
Vandalia, OH
Hamilton, OH
Fairfield, OH
Middletown, OH
West Chester, OH
Mason, OH
Cincinnati, OH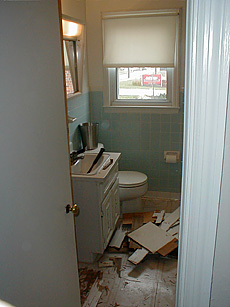 Bathroom Remodel Before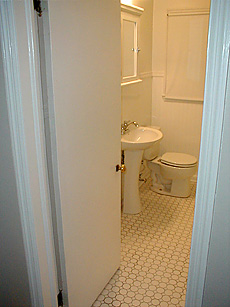 Bathroom Remodel After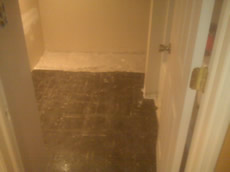 Bathroom Remodel Before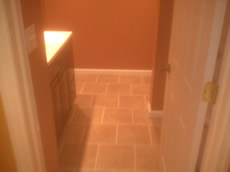 Bathroom Remodel After