Painting Contractor Dayton Ohio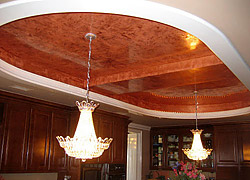 If you are thinking of having some painting done and you are going to hire a Painter or Painting Contractor then you are at the right spot.
I am going to sound like I am boasting here but my painters are second to none. Professional, polite, clean, meticulous, and very good at what they do.
Anybody can come into your home, help you pick out colors, tell you that light/flat paints hide flaws but don't wash well, and dark/sheen paints will bring out flaws but will wash well. Talk about the new law in January about using paints with low VOC's (volatile organic chemicals) and that you shouldn't use flat paints over paints with a sheen and all the other things that your local Sherwin Williams store will fill you in on when asked, BUT finding painters that perfectly cut in where the wall meets the ceiling or where the wall meets the trim is hard to find. If you are paying for it then that is what you should get. By the way if your painter is using tape to cut in then he doesn't have the skills to be a good painter.
We not only do house painting but we paint commercially as well, and we are the best. We have the references to back us up!
Serving:
Centerville, OH
Springboro, OH
Bellbrook, OH
Dayton, OH
Beavercreek, OH
Lebanon, OH
Vandalia, OH
Hamilton, OH
Fairfield, OH
Middletown, OH
West Chester, OH
Mason, OH
Cincinnati, OH