Our Company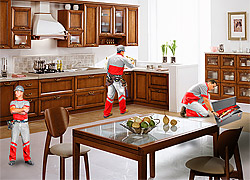 Good Guy Home Improvements LLC was created in April 2006, named by my wife. I have always loved construction, since the first house I built out of Lincoln Logs when I was about 5 years old. I grew up in a family of Electricians (Grandfather, Great Uncle, Dad, Brother, and Cousin). I worked some in the electrical field around the Dayton area, in GM plants, WPAF base, Chrysler, etc.., but decided to take a different path as a General Contractor and I love it.
We are in our 11th year of business, I couldn't be happier with the people I have surrounded myself with. Everybody associated with Good Guy Home Improvements is truly a good guy. I am laid back, easy going, very professional and take a lot of pride in not only the quality of work we provide, but the great customer service as well. We are obviously in business to turn a profit, but never at the expense of quality or customer service.
Starting out I was told that this business was going to be to hard to make successful due to the enormous amount of contractors in the area, and declining work, but I found out early on that, as long as you show up, do what you have contracted to do, and do it right, the competition is small.