Choosing a contractor in Dayton and Cincinnati, Ohio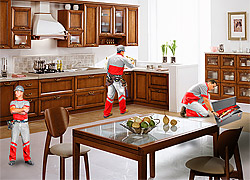 My name is Joe Taulbee and I am the owner of Good Guy Home Improvements LLC. When choosing a contractor make sure they are Accredited Better Business Bureau members, check out their complaint history, if they have a couple complaints it doesn't mean they aren't professional, just make sure they resolved the complaints. Good Guy Home Improvements LLC invites you to check us out with the BBB, Angie's List.com, Facebook, and Check out our blog with the link on our home page.
Google your contractor's name and see if anybody has posted a review about them. Make sure they provide you with references. Good Guy Home Improvements LLC has a face book page with many customers as friends, which is an excellent way to see not only reviews, but the pictures of the jobs as well. We also have a blog, which is linked to our web site, that gives valuable information about numerous projects.
Always research whatever project you are doing so you know the proper procedures, as well as proper materials being used. This way you can observe what is being done and make sure everything is being done properly, and no corners are being cut.
Your contractor should provide you with a copy of their General Liability Insurance as well as Workman's Compensation Certificate. This protects you from lawsuits incase someone is injured while working in your home.
Go with your gut, when choosing your contractor. If you don't feel comfortable after talking to them, then you probably shouldn't hire them. Most contractors are only interested in getting their hands on the money, so they will tell you what you want to hear, hurry through the job, get the check, and leave you with the red light warranty, meaning once you see the red light on their taillights as they drive away, they are finished.
Good Guy Home Improvements is more interested in making sure you know exactly what needs to be done, in the proper way, with the proper materials, so that if you do hire us, you know exactly what you are paying for, and it will be done correctly. Don't get me wrong, we are in business to turn a profit, but will never sacrifice quality of workmanship or materials to compete with a lower bid, nor do we rush to get done in order to get paid. Everything is well thought out, performed meticulously, so the end result is a beautiful job!
Your contractor should be polite, punctual, clean, and experienced! When I started Good Guy Home Improvements LLC in April of 2006 I was told the supply and demand wasn't going to work in my favor, due to there being more contractor's in the Dayton area than work, which was even more true in 2008 and 2009, but I have found that if you show up on time, do what you were contracted for and do it correctly, the competition is actually ptty small!
Good luck with your search, and even if you aren't hiring Good Guy Home Improvements LLC, we are here for free advice, and any questions you may have! Just call me (Joe Taulbee) at 937-689-1635.