Basement Costs
Finishing a basement in 2017 averaged $30 a square foot through Good Guy Home Improvements and it is likely to stay the same through 2018. Bathrooms, bars, kitchens, and egress windows add to the expense.
We go above code in a few areas like framing 16 inches on center even though code only requires 24 inches on center for walls that aren't load bearing. We use fire rated spray foam when fire blocking, again not required. We tend not to use mechanical valves when venting the plumbing because they get old and fail, so we run venting to the outside even though some counties allow mechanical vents.
We have several crews for the basement finishing process. Framers, Drywallers, Painters, Finish carpenters, floor installers, as well as using licensed Electricians, Plumbers, and HVAC installers. Everyone is paid a fair wage because they are all master craftsman in their field and because I am a Good Guy!
A basic bathroom that has already been roughed in will run $10,000 through us and that gets you a 34" by 60" shower with shower curtain rod, 30" vanity/top, Delta faucets, Delta white elongated toilet, mirror, towel ring, towel hook, wall mount light, exhaust fan, recessed canned light above the shower, vinyl plank floor, and painted the color of your choosing. If it needs roughed in it would cost typically another $5000 and these prices include permits and inspections.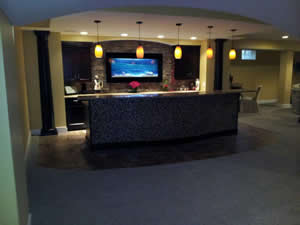 Bars can get really pricey, easily getting past $20,000, but topping $2000 for a few cabinets, sink, and counter. We can always rough in the plumbing during the basement finishing process then come back at a later date and add the bar. They can be dressed up with granite counters, rock and tile walls, columns, and stained wood panels at a later date as well.
Egress windows are required to be in a basement bedroom. If someone is sleeping they would need an emergency exit in their room in case of fire. Egress windows for 2018 will start at $5200 for a Wellcraft well, Mountain View 1000 Series Casement window 32W x 44H, and drain tied into the existing weeping system at the base of the foundation. This will take 3-5 days for a professional to complete and I definitely recommend a professional do it. The concrete foundation needs to be professionally cut, DIYer's can't rent a saw blade thick enough to get all the way through the 8" foundation so they would have to cut the outside as well as the inside and even though it can be done because I did it years ago, trust me, don't do it. DIYer's could do the rest of it but it is a tremendous amount of work even if you rent a mini back hoe as we do and have the dirt hauled away. You will need two tons of pea gravel and one ton of top soil for the install as well.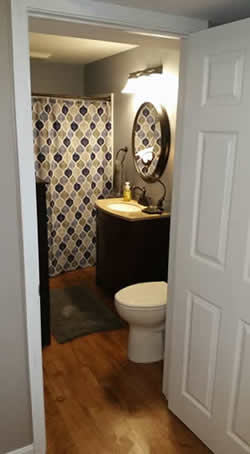 Permit costs vary from county to county, city to city and also depending on the square footage of your basement. This can be a real pain in the rear depending on where you live and I am not going to name names hear since I have to continually deal with these areas but you should always go through the hassle and added expense of pulling the proper permits so that your insurance company doesn't deny you if you have a claim. A licensed plumber has to pull plumbing permits but anyone off the street can pull Building, HVAC, and Electrical permits in Ohio.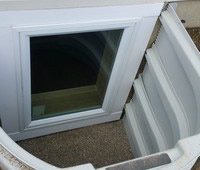 We finish basements in Warren, Greene, Montgomery, and Butler counties. Dayton, Centerville, Kettering, Oakwood, Bellbrook, Springboro, Waynesville, Maineville, Mason, Miamisburg, Xenia, Lebanon, Franklin, Middletown, West Chester, etc...
Call me Joe Taulbee at 937-689-1635 for a free estimate or simply fill out the contact form on this website, thank you!