Drywall Contractor Dayton and Cincinnati, Ohio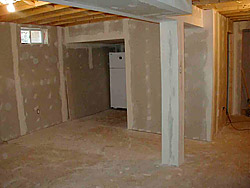 Drywall Contractors or Drywall Companies like everything else in the home improvement business are in great supply, and are just as easy to beat out competitively because of our quality, customer service, and cleanliness. It takes a lot of practice to get the knack of dry walling down, but if you don't show up on time, do a top quality job in a timely manner, and clean up after yourself your business doesn't grow and you never get called for more work from that customer.
I have seen drywall jobs that looked good, but wouldn't last long before the tape would pull away from the wall because there wasn't enough mud behind it, or they didn't tape it at all and within days cracks would form. My guys do the job right because we want you as a customer for life, so they will work on your home the same as if they were working on mine!
If you have water or fire damage we can come in and clean the place up like it never happened. We can match any textured ceiling, patch any hole, repair any crack (although foundation settling cracks will return within a year or two), drywall your whole house, or basement.
It's not that we have big egos at Good Guy Home Improvements LLC, we just run our business the way any business should be ran. Check us out on the Better Business Bureau's website, then call or email us for your free estimate.