Why Choose Us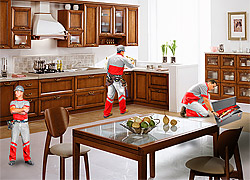 Good Guy Home Improvements LLC was created in April 2006, named by my wife. I have always loved construction, since the first house I built out of Lincoln Logs when I was about 5 years old. I grew up in a family of Electricians (Grandfather, Great Uncle, Dad, Brother, and Cousin). I worked some in the electrical field around the Dayton area, in GM plants, WPAF base, Chrysler, etc.., but decided to take a different path as a General Contractor and I love it.
Good Guy Home Improvements will begin its 14th year in business on April 17th 2019! We have perfected systems in place to make your experience with us exceed your expectations. We are very skilled in all areas of home improvements but our favorites are basement finishing, roofing, and kitchen remodeling. We are obviously in business to turn a profit, but never at the expense of quality. We warranty our work up to 5 years.
Starting out I was told that this business was going to be to hard to make successful due to the enormous amount of contractors in the area, and declining work, but I found out early on that, as long as you show up, do what you have contracted to do, and do it right, the competition is small.